ADRIAN Morgan builds and restores wooden boats at his workshop within Leckmelm Estate's Victorian farm buildings on the shores of Loch Broom. Leckmelm is 50 miles (one-hour drive) from Inverness and five miles from Ullapool, Wester Ross.

Local timber
The boats are built from locally sourced larch on oak to original 1930s plans, and to their owners' requirements.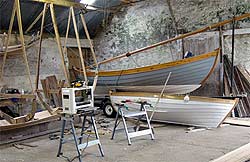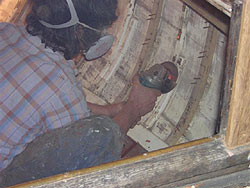 All double enders can be built as sailing dinghies with or without rowing positions. For rowing only 12ft (3.6m) to 16ft (4.9m) is ideal.
Sailing dinghies have a galvanised steel centreboard and can be gunter-, lug- or bermuda- rigged. The 12ft sailing dinghy is ideal to sail with one or two people; the 18ft with up to four people.
The boats tow easily behind a car and can be launched from a trailer by two/three people.
The choice of sail and mast maker is up to you, as is the degree to which you want the hull to be finished – you can reduce the cost of your boat by electing to make and fit the thwarts, rudder, centreboard and/or tiller and by completing the painting/varnishing.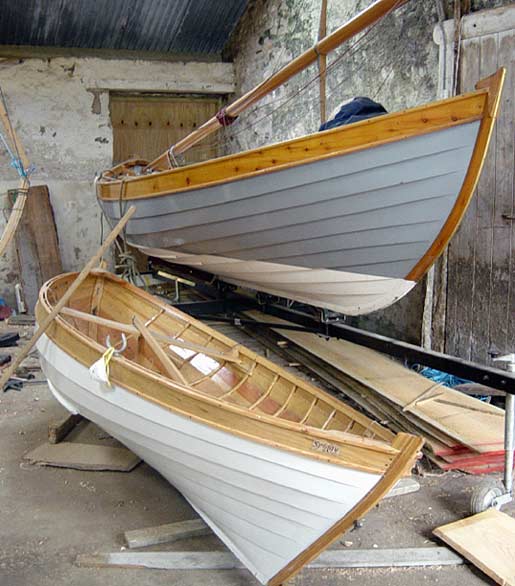 Laid up at Leckmelm: The 18ft Felicity John and the 12ft Spiggy


Prices

Prices vary depending on the amount of finishing you choose to do. As a general guide, a 12ft rowing dinghy would be £2,750 (+VAT); the 18ft Felicity John is for sale at £8,500 (+VAT).

Written quotes for individual

commissions. Adrian Morgan is happy to discuss commissions by phone, email and in person and to talk about the boats in greater detail. Test sails can be arranged.


Specifications
LOA: 12ft (3.6m), 14ft (4.2m)
16ft (4.9m) and 18ft (5.5m)
shorter/longer LOA available
Beam: 4ft to 6ft (1.2-1.8m)




Building time/delivery
Boats take 4-12 weeks to build depending on size. Collect from Leckmelm or we can deliver anywhere in the UK. Trailers can be built to order, at Inverness

Bond with your boat
During the build, owners are welcome to visit the boat shed at any time. Some owners have assisted in planking their boats, which gives a new insight into an ancient craft.
Trains direct to Inverness from most UK cities (including sleeper from London Euston).
Flights to Inverness: British Airways (London Gatwick); Eastern Airways (Manchester); Easyjet (London Gatwick and Luton); BMI (London Heathrow).